A Guideline to Walk in Cooler Costs
One of the first questions a business in need of a walk in cooler asks is: "How much does a walk in cooler cost?"
The short answer is "it depends".
But I know that's not the answer you came here for, so I'll try my best to break down some general pricing guidelines for a walk in cooler below.
Buying a walk in cooler is much like buying a home in a tract community. Price ranges vary depending on the size, location, finishes, floor plan, and extra features of the home.
Let's say a basic home in one of these communities starts at $500,000. This home can easily cost over $600,000 when you add a lakefront lot, pool, Brazilian cherry wood floors, marble kitchen counter tops, and high-end appliances.
Why are so many homeowners comfortable paying substantially more for a home? Because most people understand the importance of getting what they want right the first time to avoid costly headaches and regret down the road.
Most Americans spend at least 13 years in their homes. They want to make sure their home will provide the comforts they desire.
The same principles apply to businesses in need of a walk in cooler.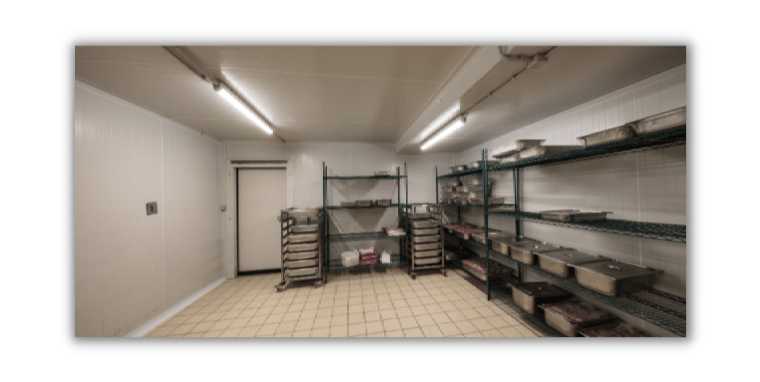 You're going to use your walk in cooler often every day. Picking the right cooler is critical for keeping valuable perishables fresh while maintaining an efficient workflow.
Unfortunately, some business owners focus only on the initial price of a walk in cooler and settle for a cooler of dubious quality, or worse, a used walk in cooler.
They sacrifice quality, efficiency, longevity, and warranty to "save" a few bucks upfront. This inevitably leads to costly headaches and regret down the road.
[Click Here] Get a Quote for a New Walk in Cooler
The most common variables affecting the price of a walk in cooler are:
Size

Location

Design (intricate, highly-customized)

Finishes

Type of use

Type of door

Type of refrigeration

Extra features

Time preference (how soon do you need it?)

Shipping costs
As you can see, lots of variables affect how much a walk in cooler costs.
It's important you thoroughly examine your options when shopping for a new walk in. An experienced sales pro should have no problem educating you on the pros and cons of each.
How much does a walk in cooler cost?
The average price of a walk in cooler is about $20,000.
You'll spend between $15,000 - $40,000 on a custom walk in cooler built to suit your specific needs. Custom coolers take approximately 3 to 4 months to deliver.
For comparison, the average price of a standard walk in cooler, available in stock for quick shipping, is $10,000 - $30,000. Standard coolers take approximately 4 to 6 weeks to deliver.
Unlike most walk in cooler manufacturers, we offer custom laminated walk in coolers AND standard foamed-in-place walk in coolers. This allows for a variety of options.
Options make for endless customizations when it comes to your walk in cooler, making it impossible to cover every possible scenario in this article.
Instead, we'll shed light on how much the more common walk in cooler packages cost below.
Common walk in cooler packages
The average walk in cooler consists of wall panels, ceiling panels, and a swing door made of a polyurethane ("foamed-in-place") or polystyrene ("laminated") insulation core with a Galvalume® protective finish.
On average, the refrigeration system, tasked with removing heat and maintaining the temperature inside your cooler between 28°F and 55°F, represents 30 to 40% of the overall costs depending on your system's features.
Floor or No Floor? Indoor or Outdoor? Basic Finishes or Upgrade?
You can build a cooler over your existing floor, without a need for floor panels, if your existing floor meets certain criteria. An experienced walk in cooler sales rep can help you determine if your cooler requires a floor.
Don't need a floor? Great! A walk in cooler without a floor represents a cost savings of about 10 - 20%.
Shopping for an outdoor walk in cooler? Budget an additional 10 to 15% for an outdoor package.
Wanna upgrade the protective finish? That's an additional 10 to 40% depending on the finish.
Buying a walk in cooler in 2022?
We offer custom and standard walk in coolers to help businesses like restaurants, convenience stores, breweries, ice creameries, and flower shops keep perishables fresh and profitable in as little as 4 weeks.
When you buy a walk in cooler with us, you get:
A 10-yr warranty on panels and a 1-year warranty on refrigeration & hardware


Your walk in cooler delivered straight to its final location, ready to be assembled



To keep perishables fresh and profitable ASAP
Ready to learn more about which walk in cooler is right for you?
Fill out the short form below and get started today!
---
Get a Quote