Walk in Cooler Options and Accessories
Ready for a crash course in walk in cooler options and accessories?
Now that you know which cooler - an indoor walk in cooler or an outdoor walk in cooler - works best, let's discuss what other options and accessories are available for you:
Quick Ship vs Custom Walk in Cooler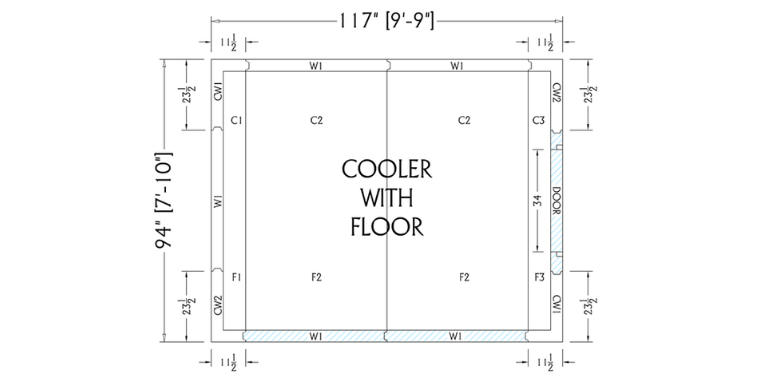 Quick ship walk in coolers are pre-manufactured coolers made from the same core components as custom-built walk in coolers. They are available in standard sizes, configurations, and finishes for "quick shipping".
Standard walk in cooler sizes vary. However, popular dimensions include: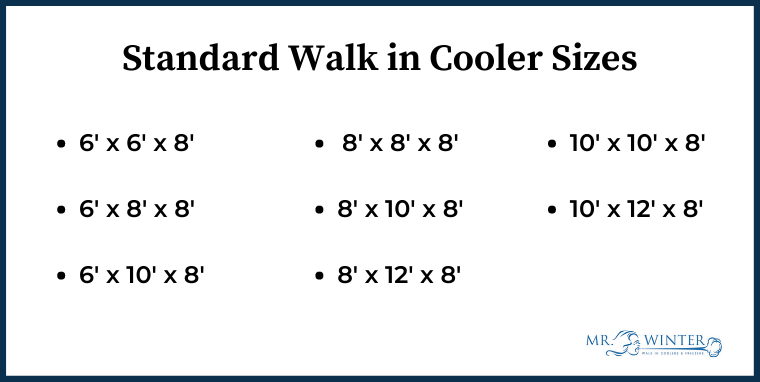 Quick ship coolers work best for businesses with a limited product mix, location flexibility, and high time preference (i.e., business that need a walk-in ASAP).
All things equal, a quick ship walk in cooler is typically less expensive than a custom walk in cooler.
Lead times for quick ship coolers range between 4 to 6 weeks.
Custom Walk in Cooler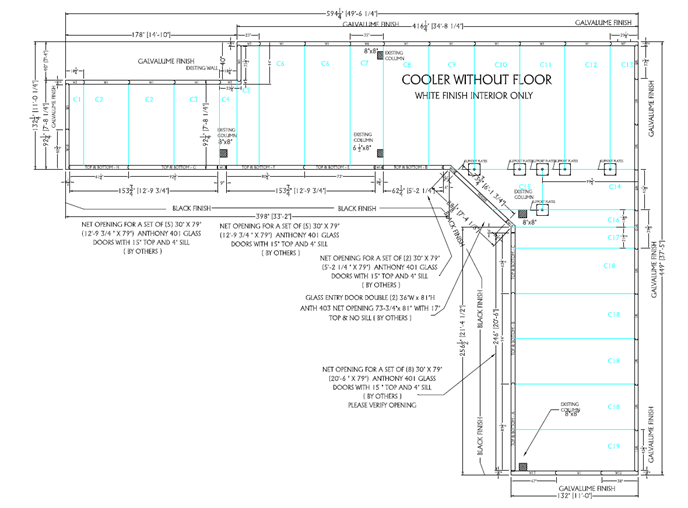 A custom walk in cooler is a cooler made to order with design specifications meeting the exact needs of a particular business.
Custom coolers work best for specialized industries like pharmaceuticals and businesses in need of consumer-facing cold storage like supermarkets, convenience stores, and flower shops.
Lead times for a custom-built walk in cooler range between 12 to 16 weeks.
Walk in Cooler Freezer Combo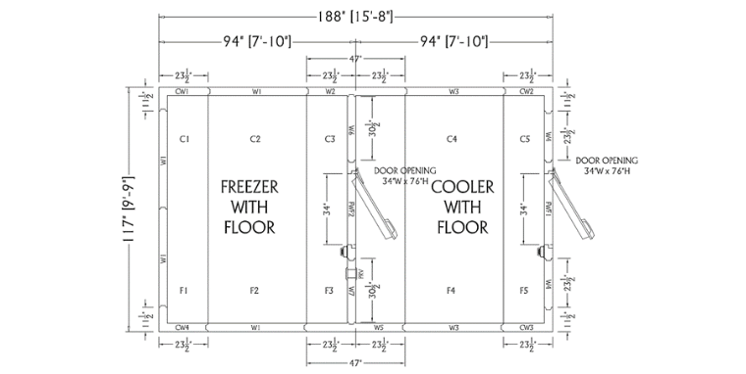 A walk in cooler freezer combo, also known as a commercial refrigerator freezer combo or commercial fridge freezer combo, is a custom-built joint walk in cooler and freezer.
Walk in cooler freezer combos can be economically beneficial for businesses requiring perishables be stored at medium and low temperature ranges. A shared common wall between your cooler and freezer allows for cost savings in materials and lower electrical bills.
Combo options include:
Walk in Cooler and Freezer with Floor

Walk in Cooler with No Floor/Freezer with Floor

Walk in Cooler and Freezer with No Floor
Note: Walk in freezers must be installed over insulated concrete floors or a prefabricated insulated floor panel to combat heat and energy loss.
Walk in Cooler Finishes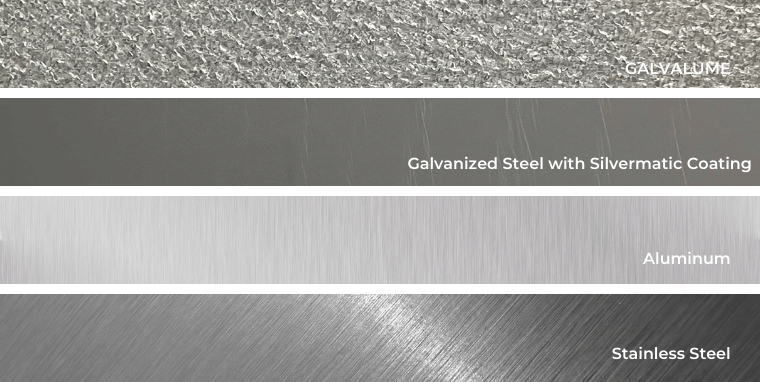 Walk in cooler wall and ceiling panels consist of an insulation core sandwiched between two sheets of GALVALUME® or galvanized steel.
GALVALUME®, the most widely used protective finish for wall and ceiling panels, is available in a stucco-embossed standard matte finish. Color upgrades include USDA-approved white or black.
Galvanized steel, a zinc-coated steel product predating GALVALUME®, is available with a silvermatic coating. Some manufacturers can upgrade galvanized steel to virtually any color imaginable. However, this type of upgrade may not be cost efficient. As always, do the math.
Stainless steel, the strongest and most expensive metal skin available, is typically reserved for high traffic areas where strength and durability are paramount or in medical/pharmaceutical settings where sterility is a must.
Walk in Cooler Flooring Options
Standard walk in cooler floor panels consist of an insulation core with an aluminum protective finish.
Aluminum is the most common skin used for floor panels due to its ability to withstand loads of up to 500 lbs per square foot. Floors are available in a standard aluminum finish, but can be upgraded to black for those concerned with aesthetics.
Reinforced Floors
Reinforced floors feature a 3/4" plank of marine plywood between the insulation core and aluminum skin to help withstand heavier loads.
They are generally reserved for walk in freezers when using a cart, hand truck, rolling rack, or pallet jack to transport perishables to and from your freezer.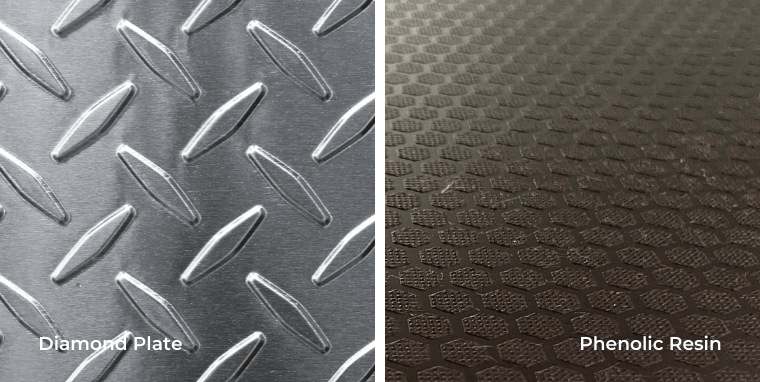 Diamond-plated floors feature a 1/8" of diamond-plated sheet of steel over the 3/4" plank of marine plywood to provide additional reinforcement. Diamond-plated floors can also serve as a skid-preventing surface.
Phenolic resin-coated floors, specific to Wintelligent® walk in coolers and freezers, consist of a reinforced floor topped with a phenolic resin coat in a slip-resistant wire mesh pattern finish.
Note: Heavy machinery on a walk in cooler or freezer floor is a big no-no. It will destroy your floor panel no matter how reinforced you think it is. This will inevitably create a much bigger problem than the one you're looking to solve. Trust us. 😉
If your operation requires the use of heavy machinery like a forklift to transport perishables, consider a walk in cooler without a floor and build your freezer over insulated concrete floors.
"Does my walk in cooler require a floor?"
If you are installing your walk in cooler on an existing floor at grade level (i.e., ground floor), there's a good chance it won't require an insulated floor panel.
Floorless walk in coolers can be assembled over your existing floor using vinyl screeds to keep air and moisture from coming inside the cooler.
Why should you consider a walk in cooler with no floor unless it's required? Because a walk in cooler WITHOUT a floor can represent a cost savings of up to 20%.
"When does my walk in cooler require a floor?"
If you are installing your walk in cooler above-grade level (i.e., second floor and higher or above a basement), your cooler will require an insulated floor panel.
Certain governmental authorities require an insulated floor panel for all walk in coolers regardless of where it's installed.
Not sure if your walk in cooler requires an insulated floor panel? A qualified restaurant equipment dealer, commercial refrigeration contractor, or manufacturer's sales rep can help you answer this question.
Walk in Cooler Doors
A walk in cooler door is responsible for providing access to your cooler and sealing tightly to avoid energy loss and overconsumption. It is often the component that sustains the most damage due to wear and tear.
The right walk in cooler door type and size depend on the type of business you operate, the space available for your cooler, and the desired location of your door.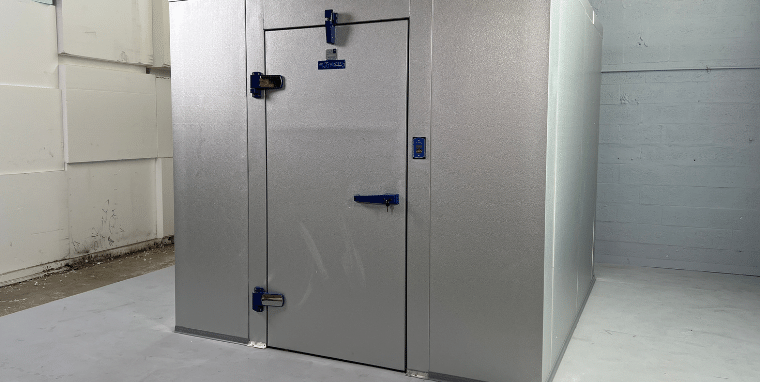 A swing door, the most common type of walk in cooler door, is a hinged door that can be pushed or pulled open from either side.
The width of a standard swing door ranges between 34 and 60 inches. However, they can be customized up to 72 inches wide. Heights range from 76 inches all the way up to 90 inches.
A swing door can be customized with a view port window for increased visibility in operations with heavy in-and-out traffic and/or a kick plate to help preserve the life of your door panel.
Swing doors can be located on any wall or side of a walk in cooler and are suitable for locations with plentiful space.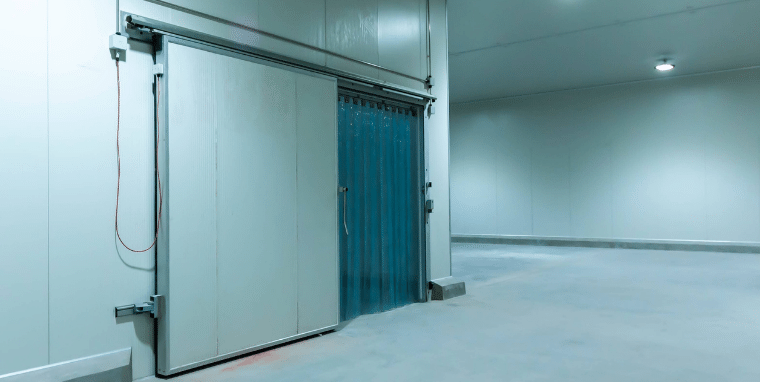 Sliding doors open horizontally by sliding parallel to the wall. They are suitable for tighter spaces and operations that require large openings for pallets and forklifts.
Sliding doors are available in many different sizes and typically located on the center of the front wall of a cooler.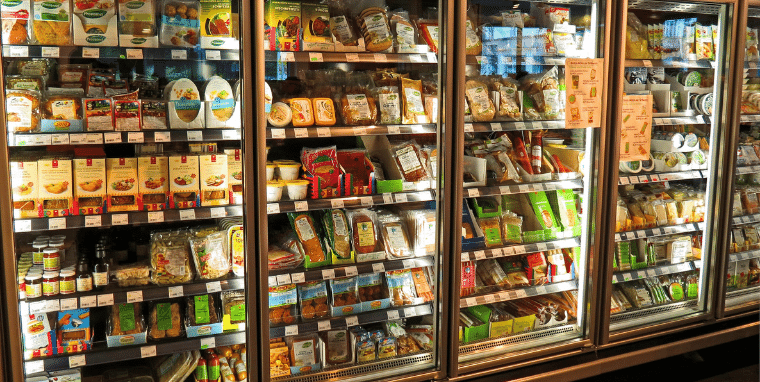 Walk in cooler glass doors, also known as walk in cooler display doors, are customized glass doors great for businesses in need of consumer-facing cold storage like supermarkets, convenience stores, and flower shops.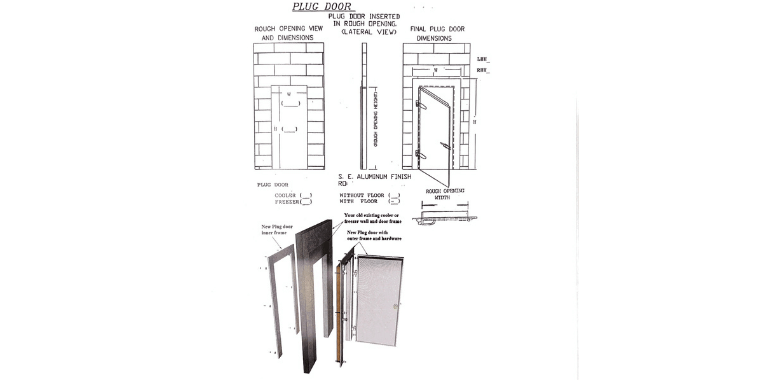 Plug doors, or replacement walk in cooler doors, are used to retrofit existing openings and replace old, worn out doors.
Walk in Cooler Accessories
Walk in cooler accessories are items that can be added to your walk in cooler to increase efficiency and utility. Below are some, not all, accessories available for you. Check here for a complete display of walk in cooler parts and accessories.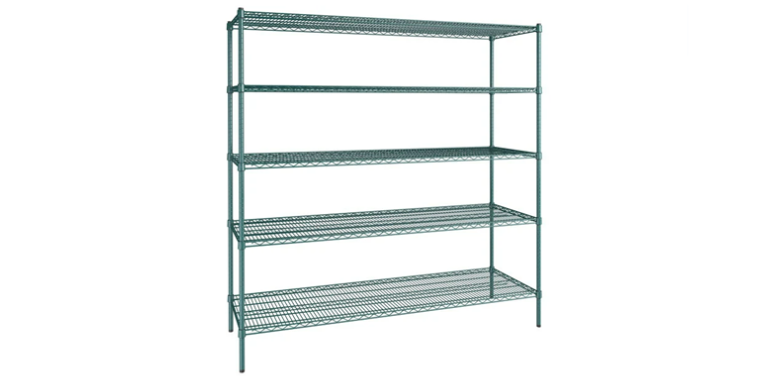 Walk in cooler shelves are necessary to create an efficient workflow, maximize cold storage space, and keep perishables safe. Look for NSF-certified shelves made of an epoxy-coated steel or stainless steel to withstand sub-freezing temperatures and high humidity.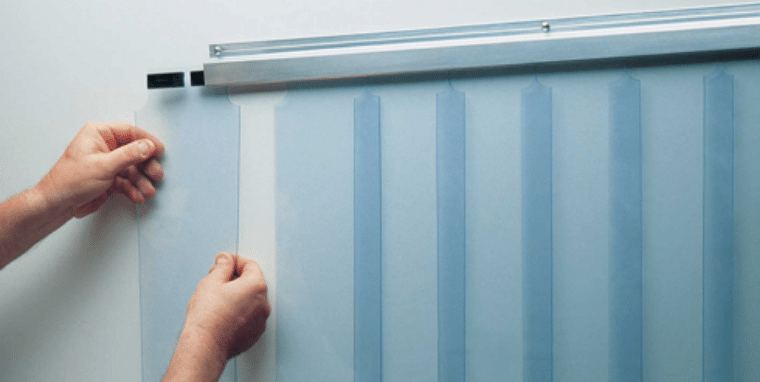 PVC strip curtains, also known as vinyl strip curtains, are clear PVC strips used in doorways to reduce the loss of cool air. They can improve workflow and reduce energy costs.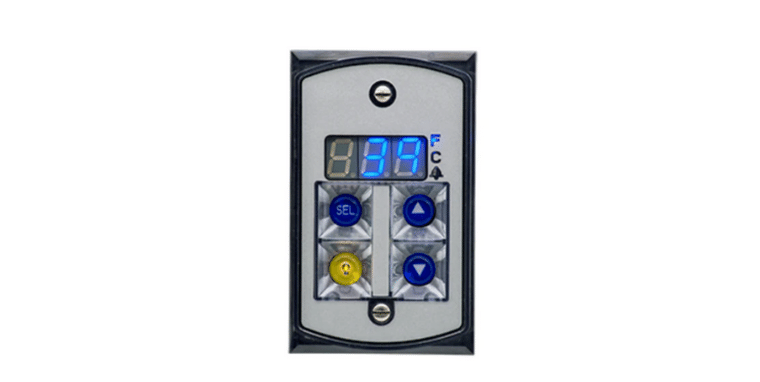 A walk in cooler temperature alarm allows you to monitor the temperature of your walk in cooler and alerts you when your cooler's temperature reaches dangerous levels. The more advanced temperature alarms are connected to the internet and offer smartphone apps for easy access from anywhere.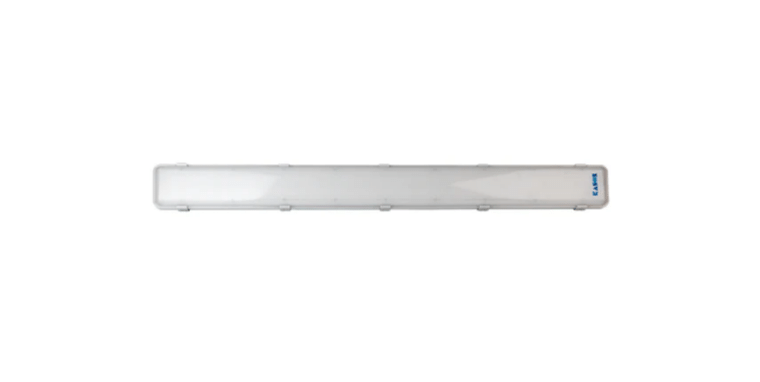 Walk in coolers are generally manufactured with one standard light affixed to the inside of the door. Coolers larger than 12' x 12' require additional walk in cooler lights like a 48" LED strip on the ceiling center.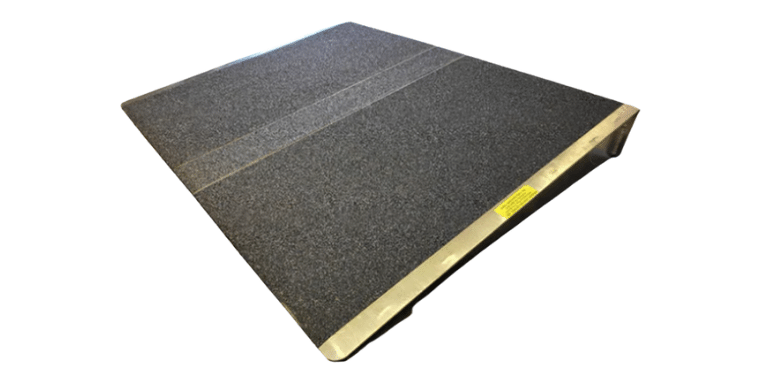 Last, but not least, a walk in cooler ramp makes it easy to handle carts, hand trucks, rolling racks, and pallet jacks in and out of walk in coolers with a floor.
In Closing
You don't have to be an expert on walk in coolers or commercial refrigeration to successfully operate a restaurant, convenience store, brewery, bakery, ice creamery, or flower shop.
But having a basic understanding of what options and accessories are available help you make better informed decisions when it comes to your cold storage needs.
Not sure if a standard or custom walk in cooler is right for you? Can't decide if a walk in cooler freezer combo is the right move? Don't know if you need an insulated floor panel for your cooler?
Talk to a Mr. Winter sales rep today. We can help. We've been helping businesses like yours keep perishables fresh and profitable since 1976.
---
Wondering "How much does a walk in cooler cost?" We're covering this in our next chapter - A Guideline to Walk in Cooler Costs.